SSAC Transit Insurance Update
On behalf of the SSAC Board, we are pleased to announce the appointment of a new underwriter HDI Global SE, Australia to our Member Group Transit Insurance Offering.
We are also delighted to share the following major policy benefits negotiated for all members leveraging the strength of our group:
Limit of Liability has been increased to $500,000 - any one conveyance, location or event.
NIL Policy Excess for SSAC Members on claims, subject to correct paperwork received.
Territorial Limits: this Policy applies in respect to Occurrences anywhere in Australia, including Australian territory - NO distance limitations.
Members will enjoy an agreed premium rate on the Total Sum Insured declared on Monthly returns.
Loss of livestock namely: sheep, cattle, goats and pigs and/or other herd animals as identified from time to time and endorsed in the Policy Schedule.
Livestock can be considered on a case by case basis: alpacas, llamas, camels, deer, horses (bloodstock excluded) can be considered upon application.
Ostriches and domesticated fowl: chickens, ducks, geese, turkey, guinea fowl, pigeons, quail or pheasants can also be considered upon application.
Excluded: bloodstock, prize animals, racehorses, birds, exotic or other animals.
Studstock; up to $10,000 per animal/ $20,000 any one loss if this optional extension is selected upon application by the joint insured. Subject to variation to Standard Premium Rate.
Successful claims will be paid within 24 hours.
Period of Insurance from 1 January 2023 at 12.01am to 31 December 2023 at 4.00pm.
For further information of to arrange Transit Insurance for your business, contact us today.
Matthew Starr meets the Australian Minister of Agriculture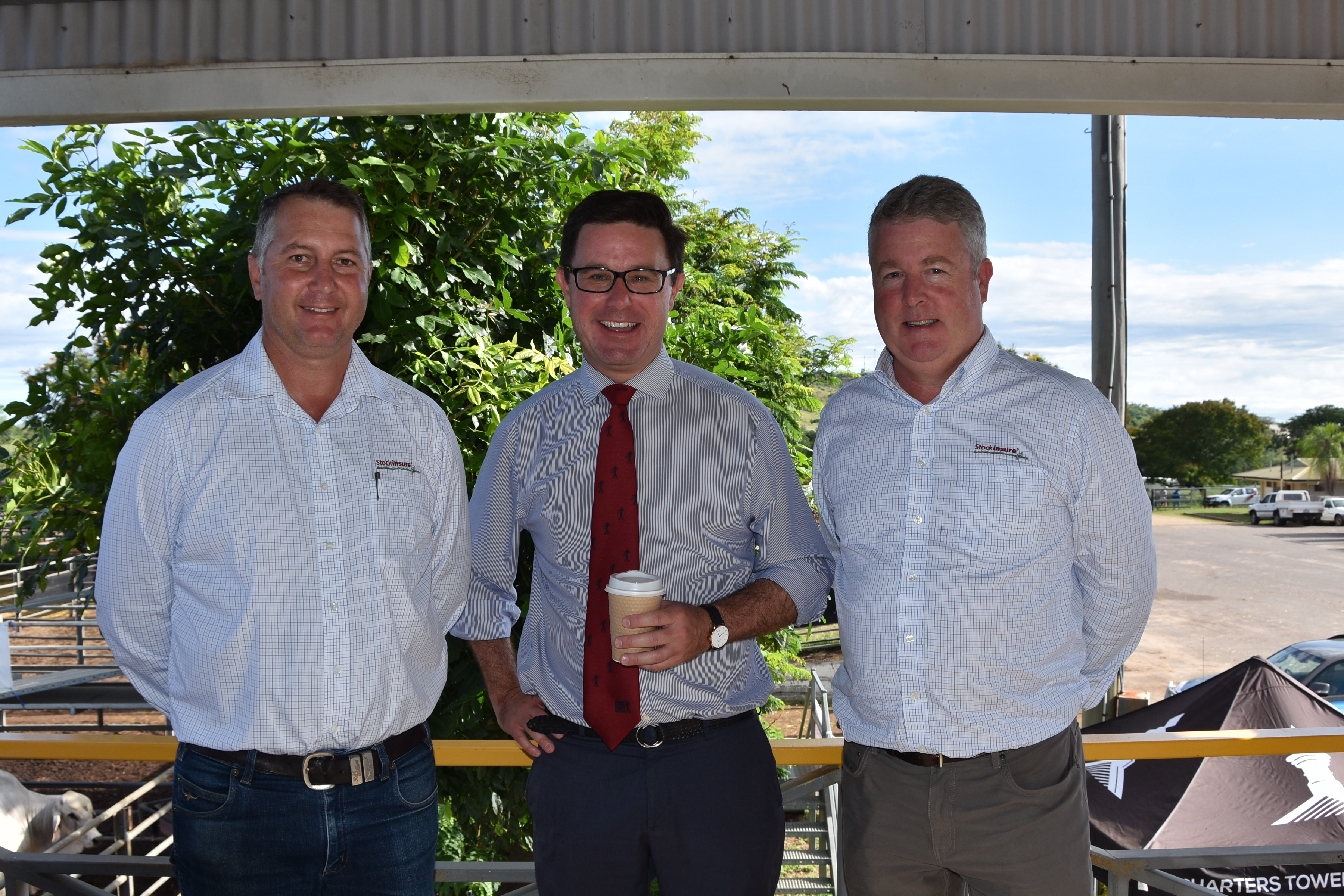 Stockinsure Director and Geaney's Livestock and Real Estate director Matt Geany, Agriculture Minister Hon David Littleproud and Stockinsure CEO Matthew Matthew Starr at the Big Country 2021 Brahman Sale, Charters Towers. Photo courtesy - North QLD Register.
Our CEO, Matthew Starr recently had the pleasure to meet with the Minister for Agriculture Hon David Littleproud at the inaugural event for Beef Australia 2021.
Stock and Station Agents Coop's member program Stockinsure are proud sponsors of Beef Australia and it was wonderful to show support and meet with the chief guest Hon David Littleproud.
The event coincided with the Big Country Brahman Sale where he was interviewed by Tom Major from ABC about the risks livestock agents are facing during COVID-19 and beyond and how insurance can play a more important role now, more than ever.
Listen to the interview below. Matthew comes on at 46 minutes.
Play interview